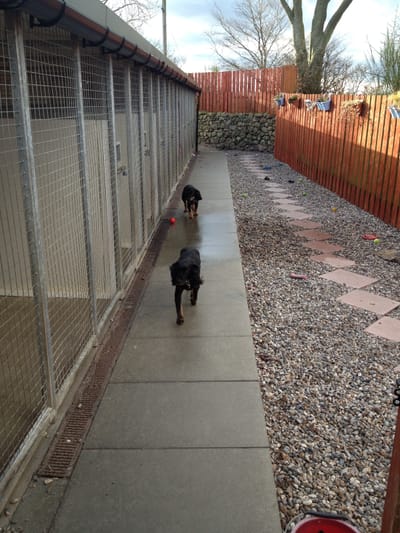 Fairways Pet Haven was opened in November 2011 by Renea Bryson. The dream was to open a kennel where dogs are loved and cared for and given the respect they deserve. After many years in the oil industry Renea finally realised that dream and Fairways Pet Haven was opened.
All of our guests are taken out at least twice a day for walks and given comfort breaks first thing in the morning and last thing at night. We can guarantee that every pet will be treated as if it was our own and hugs and cuddles will always be available. Your pets safety and well being is always a priority and taken very seriously.
We have 22 boarding kennels in total located in three separate blocks. Our 5* kennel block has 9 large kennels and 1 extra large kennel for a family of dogs. Our newest block "The Chalet" has 3 kennels and are for our large families or larger dogs. The third block, the 3* kennel, is a smaller indoor kennel block of 9 kennels for our young, old and more shy guests. The care received in all of the kennel blocks is exactly the same, the names are only used to distinguish between them.
We really want to be a "Home from Home' for your fur baby so if you are looking for kennels for your next break please give us a try. We have an open door policy and welcome visitors any day of the week between 10am to 1pm, and 2pm to 4pm daily, so feel free to pop in and have a look around, and of course, you are welcome to bring your fur baby with you.
We are only a few minutes drive from Aberdeen Airport and are located in 5 acres of private ground.